castel sant'angelo rome ( Hadrianeum )
---
The Castel Sant'Angelo Rome was built in 135 AD as the tomb of the Roman Emperor Hadrian. During the Middle Ages, this mausoleum was converted into a military fortress that protected Rome. The building has served as a papal residence, a prison in the Renaissance, and as a museum today. In addition to serving as a repository for historical information, it contains sculptures, architecture, frescoes, and much more of cultural value.
---
castel sant'angelo history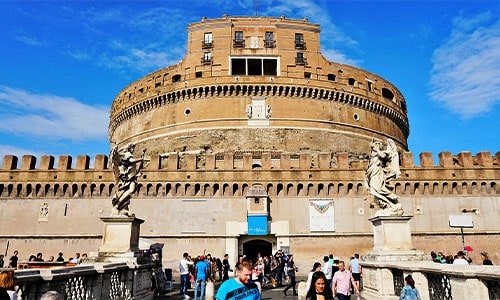 Castel Sant'Angelo is an imposing structure that stands on the right bank of the Tiber, at the end of the Ponte Sant'Angelo bridge. It was originally built as a mausoleum. Hadrian probably commissioned and constructed it as a tomb for himself and his successors.
This work was originally undertaken by Demetrius around the year 123. The project was completed within a year of the Emperor's death by Antoninus Pius. This structure houses the Museo Nazionale di Castel S. Angelo and its historical and art collections, including relics and other items of interest related to the Italian Army, since 1925.
There are three principal periods in the history of this monument, with its many additions and extensions. This period is represented by remnants of imperial mausoleums, castles, and papal apartments from the Ancient Roman period.
There are a wide range of exhibits on display in these buildings, including sculptures, paintings, marble works, arms and furniture, and objects that were acquired from different sources or were transferred from the museums, such as the Museo Nazionale Romano delle Terme di Diocleziano or the Museo Artistico Industriale.
Several of the exhibits were purchased from the antiquarian market or were acquired following the 1911 universal exhibition, or Esposizione Universale. There are certain times of the year when the famous "Passetto di Borgo" or "er Corridore" (the corridor) is open to visitors – a fortified and elevated passage joining the Vatican and Castel Sant'Angelo.
As a result of this direct corridor leading from the Palaces of the Vatican directly to the castle, Popes had an escape route to the fortress during periods of unrest. Control over the surrounding district was also possible due to the fortified structure.
As Rome and the Church experienced their darkest and most painful moments in history, the Passetto became increasingly valuable. When the militias of Charles VIII of France overran Rome in 1494, Alexander VI Borgia retreated to the Castello.
During the Sack of Rome under Charles VIII, Clement VII Medici (1523-1534) used the passageway to reach the Castello. After its function as a defense ended at the end of the sixteenth century, the passageway lost significance.
castel sant'angelo bridge
It was built in 239 AD and is one of Rome's most famous bridges. It was used by medieval pilgrims crossing the Tiber at Ponte Sant'Angelo on their way to St. Peter's. Among the businesses set up to part pilgrims from their money, the most enduring was the sale of rosaries, and the nearby street is still named after them (Via Dei Coronari).
The street ran along the ancient Roman Via Recta, which originally connected Piazza Colonna with the Tiber. Via Dei Coronari may be a highly hazardous place to navigate through the vast trough of people.
There were around 200 pilgrims who perished on the Tiber in the Holy Year of 1450. They were crushed by crowds and drowned in the Tiber. Pope Nicholas V demolished the Roman triumphal arch at the entrance to Ponte Sant'Angelo after the tragedy.
castel sant'angelo what to see
There are five floors in the Castel Sant'Angelo, which are connected by a spiral ramp that leads first to the chamber of ashes and then to the cells where several historical figures were imprisoned.
You will find perfect preserved frescoes from the Renaissance period in the upper portion of the castle, as well as an extensive collection of weapons.
castel sant'angelo opening hours
The vast exterior area of Castel Sant'Angelo and its beautiful Ponte Sant'Angelo can be enjoyed at any time of the day or night. In addition to crossing the Tiber, this pedestrian bridge also links the castle to the city center of Rome. The museum is open Tuesday through Sunday from 9:00 am to 7:30 pm. Ticket offices close at 6.30 pm, and the museum is closed on Mondays, Christmas, and New Year's Day.
castel sant'angelo tickets price
Castel Sant'Angelo in Rome charges an admission fee of 12 (+ € 1.00 as a reservation right) euros per adult. The price of tickets is reduced to 2 (+ € 1.00 as a reservation right)euros for EU citizens between the ages of 18 and 25. Under 18-year-old children and adolescents are free of charge. Groups of school children require a reservation of €1.00 per person You can also visit the Palazzo Venezia within three days after first using your ticket.
There may be a variation in the price of the total ticket when an exhibition is taking place
Castel Sant'Angelo is free of charge on the first Sunday of every month.
Because of the high number of visitors, you may have to wait for a long time. When you have the Roma Pass or the Omina Card, you can skip the line and enter immediately.
Fast track access to Rome Castel Sant'Angelo: 2 hour guided tour with a live guide.
If you are planning a visit to Castel Sant'Angelo, here is some useful information
It is not permitted to bring backpacks, suitcases, or large bags to the sites.You can only access each site once with the ticket.You must go through metal detectors for security purposes. It is impossible to avoid waiting for these mandatory procedures.You will need to bring a valid identification card or a valid passport (one for each person).
Audio guide tour of Castel Sant'Angelo
With this skip-the-line ticket, you can visit the Mausoleum of Hadrian at Castel Sant' Angelo without waiting in line. Enjoy a self-guided audio tour on your smartphone and explore the mausoleum at your own pace.
It is important to note that this building is not suitable for people with walking difficulties
For more information, please visit the Castel Sant'Angelo official website
Take a look at these options if you are interested in castel sant'angelo skip the line ticket, a guided tour, or a combined ticket for the Castel Sant'Angelo in Rome:
---
What is the best way to get to Castel Sant'Angelo?
Castel Sant'Angelo is very easy to reach from either side of the river. The castle is roughly a 10-minute walk from either Piazza Navona or the Vatican. The easiest way to approach the castle is to walk across Ponte Sant'Angelo, where you can admire Bernini's white marble angel statues. In addition, plenty of bus lines ( buses: 23, 34, 49, 64, 87, 280, 492, 926, and 990 ) will get you to your destination if you intend to use public transportation. Alternatively, you can take the A metro line and get off at Lepanto or Ottaviano.
Castel sant'angelo dress code
There is no dress code that must be followed despite the fact that Castel Sant'Angelo has a history as a papal residence, it is a historical site and not a religious one.
Are parking facilities available at Castel Sant'Angelo?
The Castel Sant'Angelo does not have any parking spaces, so unfortunately it is not possible to park there. However, there are many reasonably-priced paid parking lots within a ten-minute walking distance that you can access.
Is Castel Sant'Angelo close to the Vatican City?
The Vatican City is only 1.5 km away from Castel Sant'Angelo. Vatican City and Castel Sant'Angelo are linked by a secret passage called Passetto di Borgo, which runs 800 meters.
Is it worth visiting Castel Sant Angelo?
Yes, it is definitely worth your time to visit the Castel Sant'Angelo. This monument is definitely one of Rome's must-sees, not only due to its beauty and what you will find inside, but also due to the way it can give you a real sense of how Rome has evolved over the last 2,000 years, something I find quite fascinating.
USEFUL INFORMATION
---
Opening days and times 2023
Monday to Sunday: 9 AM to 7.30 PM
The ticket office closes at 6.30 PM
Closed on January 1st, May 1st, and December 25th.
---
Price
Adults: € 12
European Union members (18 – 24): € 2
Children (ages less than 17) and seniors (over 65) members of the EU: free entrance
---
How to get there
Address:Lungotevere Castello, 50
See Rome in 2023
---
Discover the history of the Castel Sant'Angelo